Website: www.VedaVihaan.com
S. Naveen Kumar is a dynamic entrepreneur and visionary leader in the education sector. Currently serving as the General Secretary and Principal of VedaVihaan, The Global School, run by the Navdip Educational Trust, Naveen's innovative ideas and leadership skills have transformed VedaVihaan into a premier educational institution in India. The school offers world-class education, focusing on holistic development beyond academic excellence. Naveen's passion for education and dedication to students' welfare have earned him recognition and respect in the education sector, making him a role model for aspiring entrepreneurs and educational leaders.
Defining the Business
Inception Year/Date: 07-Oct-2019
Present Status of Your Business: Three branches in Bangalore (Whitefield, Kadugodi, Belathur)
Impact on Society
VedaVihaan The Global School implements a unique curriculum that combines traditional Indian knowledge with modern technology and global perspectives. This approach prepares students for the challenges of the 21st century by providing holistic education that goes beyond academic excellence. The impact is significant, as it equips future leaders with diverse skills, interests, and character traits.
What Does Your Business Do?
VedaVihaan The Global School is a preschool that educates future leaders from their foundation.
Problem Solved
The school addresses the high demand for quality education in the locality, offering a unique curriculum that blends traditional Indian wisdom with modern techniques, ensuring students are well-prepared for the challenges they will face.
The USP of the Business
VedaVihaan The Global School's unique curriculum covers various aspects such as fine motor skills, gross motor skills, hands and eye coordination, vocabulary building, creative thinking, phonetics, language development, social-emotional development, nurture individual attention, personal awareness, and maintaining an ideal student-to-faculty ratio. This approach combines traditional Indian knowledge with modern technology and global perspectives, distinguishing it from other educational institutions.
Future Prospects
The school aims to provide world-class education, expand its branches to offer more preschools, and develop into a full-fledged school, providing education from playgroup to 12th grade, affiliated with CBSE or CISCE boards.
Entrepreneurial Drive
Naveen's entrepreneurial journey was driven by his passion for creating his brand and a desire to make a positive impact rather than solely for monetary gain.
Inspiration and Role Models
Naveen considers his parents as his inspiration and idols for personal and professional growth. They instilled creativity, out-of-the-box thinking, communication skills, negotiation skills, good interpersonal skills, and problem-solving skills in him.
Challenges and Learning from Entrepreneurship
Entrepreneurship presented challenges, particularly securing initial funds and facing the COVID-19 pandemic's impact. During the pandemic, Naveen invested his time in understanding the market, school operations, marketing, and more. This effort paid off as the school gained momentum in 2021.
Essentials for Starting the Business
Key essentials included a suitable location with an inviting ambiance, eco-friendly infrastructure, quality furniture, toys, and a well-trained faculty and staff.
Identifying the Opportunity in the Market
The high demand for education in the locality, with numerous schools in the area, indicated a significant opportunity. Naveen recognized the potential for providing quality education with a unique approach.
Unique Traits as an Entrepreneur
Naveen's unique traits include creativity, out-of-the-box thinking, strong communication and negotiation skills, excellent interpersonal skills, and effective problem-solving abilities. His extensive experience and technical expertise in various sectors contribute to his success.
Professional Journey
Naveen's professional journey spans over 15 years, with experience in talent acquisition, delivery management, people management, client management, and more. He has worked across sectors such as BFSI, Telecom, Software Product Companies, and Healthcare.
His education includes an MBA in HR & IT, a Bachelor of Computer Application, certifications in CHRCP, software, and hardware and networking. These certifications highlight his commitment to continuous learning and industry relevance.
Naveen's career features roles such as CEO and Co-Founder of Up Well IT Solutions Pvt Ltd, Delivery Head at Hiya Mee Pvt Ltd, Manager-Resourcing at Hiring Bees (MIPS Web Service Pvt Ltd), Manager-Delivery at Atos India, and more. His achievements include being recognized as the Best Senior IT Recruiter at ASM Technologies Limited.
Learning from Entrepreneurship/Profession
Naveen emphasizes that each role and responsibility in any business plays a vital role, and satisfying clients and vendors is essential. Entrepreneurship is a journey with no defined end; it involves continuous growth and learning.
Advice to Aspiring Entrepreneurs
Naveen advises aspiring entrepreneurs to plan well, give their best effort, and persist in pursuing their goals. Success in entrepreneurship is unique to each individual, and determination is key.
Awards Won
Excellence & Leadership In Education – EDUCATION ICON AWARD – 2023
BlindWink – Indian Icon Award 2023 – MOST INSPIRATIONAL SCHOOL OF THE YEAR – 2023
BEST PRESCHOOL OF THE YEAR AWARD 2023
Glaze Iconic Awards 2023 – 40 UNDER 40 PROMISING & EMERGING ENTREPRENEURS
The Magic Book of Record – HONORARY DOCTRATE AWARD – 2023
The Magic Book of Record – GLOBAL EXCELLENCE AWARD – 2023
Indian Glory Award – TOP 10 SCHOOL OF THE YEAR 2023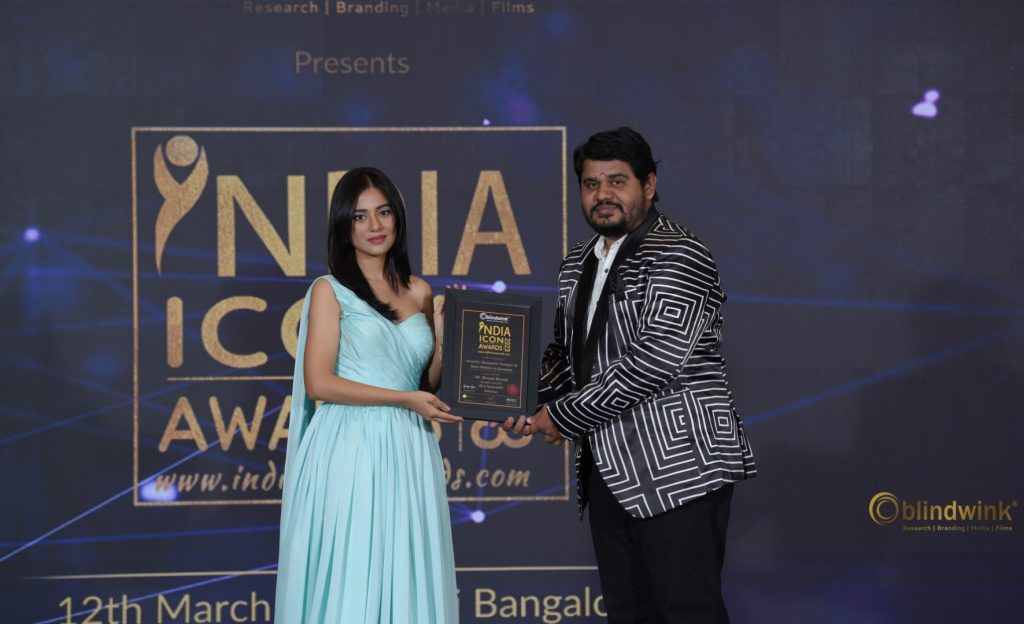 K V Shivaramiah & S Naveen Kumar's journey as educational entrepreneurs exemplifies dedication, innovation, and a commitment to providing holistic education. Their unique approach to education equips students with valuable skills and knowledge for the future, leaving an indelible mark on society. As they continue to grow and expand their educational venture, their impact on the education sector is set to become even more profound.