In the fast-paced realm of technology and innovation, entrepreneurs stand as trailblazers, shaping industries and leaving an indelible mark on the business landscape. Reji Modiyil, the visionary Director and Owner of Hostao LLC, embodies this entrepreneurial spirit, leading his company with a profound commitment to innovation, reliability, and customer satisfaction. Hostao LLC, established in May 2010, has emerged as a distinguished player in the web hosting industry, offering comprehensive hosting solutions that empower businesses and individuals to thrive in the digital age.
The Driving Force: Passion, Vision, and Determination
Reji Modiyil's journey is underscored by a fervent passion for technology and innovation. With a solid foundation in Electrical, Electronics, and Communications Engineering, his journey commenced with academic pursuits culminating in a Bachelor's degree from Universal Institute Pathanamthitta in 2002. The entrepreneurial spark was ignited through observing the rapid migration of businesses towards online platforms during the Covid-19 pandemic. This pivotal moment marked the realization that a robust online presence was no longer an option, but a necessity for businesses to flourish. With a background in web design and a determination to contribute to the digital triumph of enterprises, Reji Modiyil founded Hostao LLC.
Empowering Businesses through Web Hosting Excellence
Hostao LLC's inception in 2010 marked the beginning of a transformative journey in the web hosting industry. The company, headquartered at Ste 1200, 1309 Coffeen Ave, Sheridan, WY 82801, United States, operates with a resolute commitment to providing reliable, affordable, and cutting-edge hosting solutions. The company's website, https://hostao.com, stands as a testament to its digital prowess, offering a gateway to its comprehensive range of services.
As of the present day, Hostao LLC has solidified its position as a reputable web hosting service provider. The company offers an array of hosting solutions, including shared hosting, VPS hosting, dedicated hosting, cloud hosting, and domain registration. These offerings cater to a diverse clientele, from startups seeking a solid online presence to established enterprises aiming for digital excellence.
Impact on the Market and Society
Hostao LLC's impact resonates through both the market and society. In the modern business landscape, an online presence is synonymous with success. Hostao LLC empowers businesses to establish and maintain this online presence seamlessly, enabling them to connect with their target audience effectively. By offering reliable and efficient hosting services, the company contributes to a positive user experience, allowing businesses to thrive in the digital realm.
Unique Selling Proposition (USP): Reliability and Exceptional Customer Support
The Unique Selling Proposition (USP) of Hostao LLC lies in its unwavering commitment to reliability and exceptional customer support. In a world where technical assistance is paramount, Hostao LLC distinguishes itself by providing timely and effective solutions to client queries and concerns. The company's accreditation as NIXI authorized sellers of .in domains further solidifies its standing as a trustworthy and authorized provider in domain registration.
Future Prospects: Pioneering Innovation
Hostao LLC's future prospects are characterized by innovation and expansion. In a rapidly evolving digital landscape, the demand for robust web hosting solutions is set to rise. Hostao LLC aims to stay at the forefront of this demand, continuously innovating its offerings to align with emerging technologies and market trends. Expanding services, enhancing support infrastructure, and fostering strategic partnerships are integral to the company's vision for sustained growth and success.
Learning from Challenges: Resilience and Adaptability
Reji Modiyil's entrepreneurial journey has been marked by challenges that have been instrumental in shaping his approach. One of the initial hurdles was entering the competitive web hosting market. The challenge was met with strategic planning, differentiation, and an unwavering commitment to quality. Rapid technological evolution presented another challenge, compelling the company to stay updated with trends and innovative solutions.
Financial considerations were also significant, especially during the challenging economic environment caused by the pandemic. Balancing limited resources with consistent service levels and expansion required prudent resource allocation. Through these challenges, Reji Modiyil learned the paramount importance of adaptability and resilience. Adapting strategies based on market feedback, investing in research and development, and embracing change have been key factors in Hostao LLC's success.
Inspiration and Learning: Drawing from Visionaries
In the entrepreneurial journey of Hostao LLC, Reji Modiyil draws inspiration from visionary figures like Elon Musk. Musk's audacious vision, relentless innovation, and emphasis on sustainability resonate deeply. Musk's ability to realize groundbreaking ventures demonstrates the transformative power of bold ideas and determined execution. This aligns closely with Reji Modiyil's commitment to innovation and positive change.
Advice to Aspiring Entrepreneurs: A Roadmap to Success
Reji Modiyil offers sage advice to aspiring entrepreneurs. He highlights the importance of belief in one's vision, adapting to challenges with resilience, and celebrating milestones along the journey. Embracing calculated risks, focusing on customer needs, and continuous learning are essential components of success. Reji Modiyil emphasizes the interconnectedness of personal and professional aspects, urging entrepreneurs to maintain a healthy work-life balance.
Awards and Accolades: Recognizing Excellence
Hostao LLC's excellence is not unnoticed. In 2023, the company was honored with the esteemed "Best Web Hosting and Web Designing Company" award by Blindwink at the Indian Excellence Awards. This recognition underscores the company's dedication to delivering exceptional web hosting solutions and positions it as a prominent player in the industry.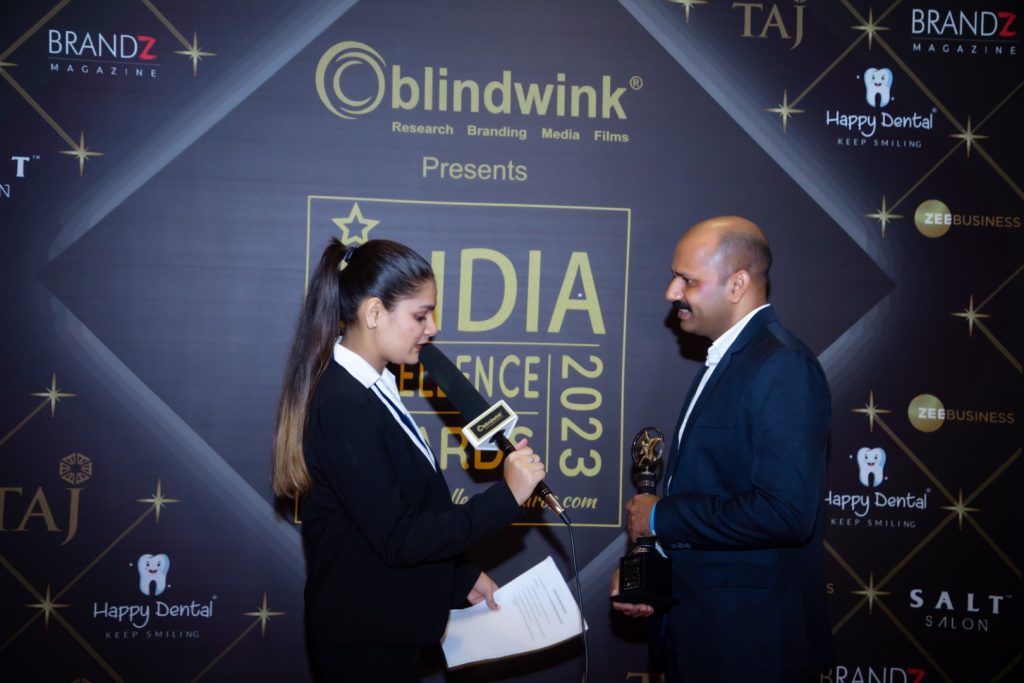 Navigating a Dynamic Future
Reji Modiyil's journey as the driving force behind Hostao LLC is a testament to the power of innovation, resilience, and customer-centricity in entrepreneurship. With a vision rooted in technological excellence and a commitment to empowering businesses through reliable hosting solutions, Hostao LLC is poised for a promising future. As the digital landscape continues to evolve, the company's unwavering dedication to innovation and customer satisfaction will undoubtedly drive its success in the dynamic world of web hosting.