Dr Abhinandan Ravsaheb Patil (M.Pharm, PhD, Post Doc (CSIR), M.A (Psychology), PGDM, MBA, N.A [A.M]) is the associate professor at D. Y. Patil Education Society, (Deemed to be University), Kolhapur. He was 15 years old when he first began researching and today, he is 34.
Dr Abhinandan Ravsaheb Patil is currently working as Associate Professor at D. Y. Patil Education Society, (Deemed to be University), Kolhapur. He has got his PhD in Pharmaceutical Sciences from D Y Patil University, Kolhapur, India. His PhD project was awarded as the Start-Up Hero of Maharashtra state, from the Make in India scheme, Government of India by hands of Hon. Minister Nitin Gadkari ji.
He obtained his Bachelor's in 2011 and Master's (2013) degree in Pharmaceutical Science from Shivaji University. He is the only student from the World to receive Bachelor's, Master's and PhD gold medals with a hat trick recorded in the International book of World records and India books of records. He has over 49 publications in peer-reviewed journals with high impact factors, 29 Indian and 8 International patents to his credit. He attended nearly 181 International and National conferences all over the world.
He is working as an International educator and psychological Counselor, helping students with holistic study techniques and music therapy on his own website www.abhiguru.com and the 'abhiscientist' YouTube channel. He is a TEDx speaker who delivered his talk on "tuning of the biological clock of students… Need of time". Currently, he is working as a member of the world economic forum 2021-2022 global shaper Kolhapur Hub.
Dr Abhinandan Ravsaheb Patil discovered two new bacteria-
Lactobacillus plantarum and Lactobacillus rhamnosus exhibiting prophylactic action against gastrointestinal cancer. The same organism was formulated as Nutraceutical biscuits and introduced in the Indian market by a beginner entrepreneur. He is working as Vice-President of Atmatara Foundation, an NGO; helping the people by spreading awareness about mental and physical health especially children and women.
Dr Abhinandan Ravsaheb Patil's research impacts society as his team has prepared a smart relaxing platform for babies to prevent reflux issues and GER. This device is lightweight and calms babies. It works on quantum biology and string theory philosophy. This product will bring revolutionary changes to the pediatric healthcare system. Similarly, he has also developed nutraceutical biscuits which will act as prophylactic functional food against colorectal cancer. It is the first product in the world of its kind. The same they are planning a STARTUP supported by SUK Research and Development Foundation Kolhapur as an incubation.
His future goal is to solve major health issues in children and women through new nutraceutical formulations and device development. What encouraged him to do so is the people being ready to invest in health and environmental safety but not getting proper solutions for the same. His team is planning to give a cost-effective, safe and 100% more reliable solution in healthcare.
Dr Abhinandan Ravsaheb Patil's father, Mr Ravsaheb Raygonda Patil is his idol as his father's achievement in life is developed from scratch. He is a retired government officer and organic farming culture developer at the city level in form terrace gardens.
Dr Abhinandan Ravsaheb Patil has seen a lot of his friends having health issues with money in hand but no proper solution; this triggered his mind to do something best from his side as a scientist, thus, he is developing as an entrepreneur.
According to Dr Abhinandan Ravsaheb Patil, he requires a helping hand from some professionals who are experts in technology transfer. On the same grounds, Mr Mahesh Vishnupant Shinde is helping in tech transfer and development of AI-based gadgets. He is an entrepreneur working in his own business in the car accessory industry and working as CEO of ABA BODY PARTS & ACCESSORIES Kolhapur since 2004. His set-up was established in 1995, but from 2010 onwards he has developed new infrastructure and greatly contributed to research and development.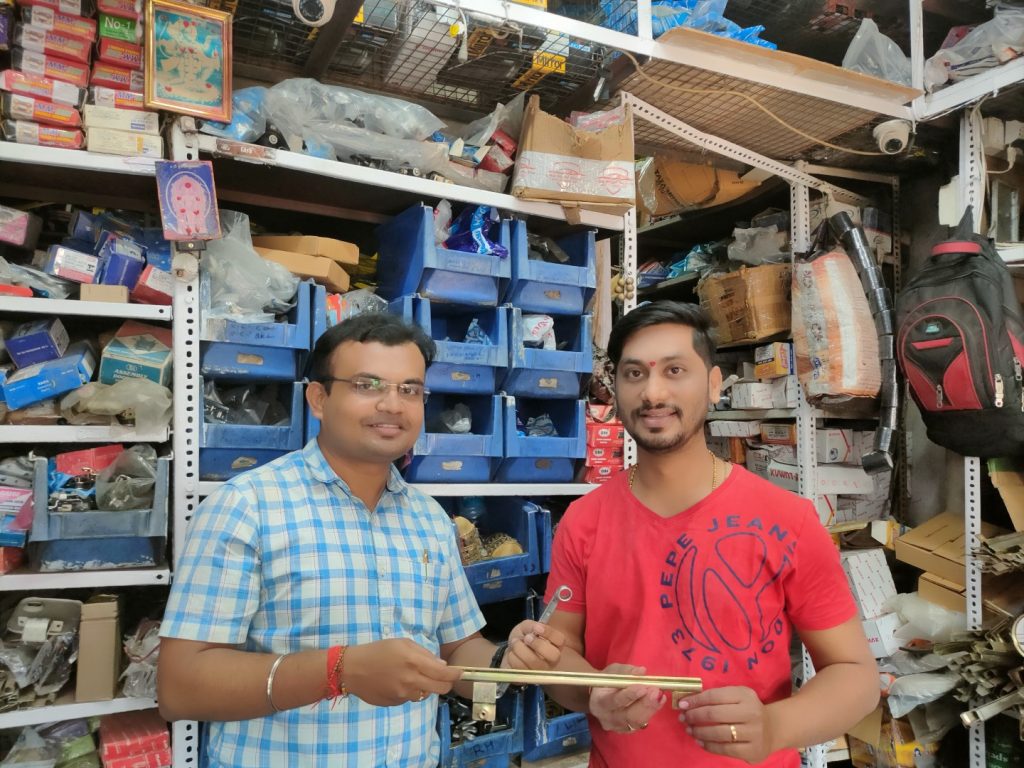 Since 2021, Dr Abhinandan's team is working together with Mr Mahesh Vishnupant Shinde and he is supplying all the essential parts needed in developing many medical-based devices. His experience in mechanical parts generation is vital and is like an asset and ideal to young booming STARTUP'S who want to work in interdisciplinary setup development.
Dr Abhinandan Ravsaheb Patil has also won many awards including
Young Scientist award at 1st International Conference on Forensic science and Cancer, (2015), Andhra Pradesh, India; which is his most outstanding achievement.
Young scientist award from Vdgood International group 2020.
He is the recipient of the Best outstanding student award from all India by the hands of Hon. President (India) Pranav Mukherjee.
He has also won the student of the year award from Indian Pharmaceutical Congress, Trust (2012).
Startup Hero of Maharashtra Award 2018 by hands of Hon. Minister Nitin Gadkari.
Young Scientist award from PENCIS group Saudi Arabia in 2022 in the category of pediatrics and child welfare.
Dr Abhinandan Ravsaheb Patil has won 81 best poster and oral awards at different National and International Conferences. He is the hat-trick winner of Anveshan (thrice times) organized by the Association of Indian Universities (AIU) and the Avishkar research convention (Five times) organized by the government of Maharashtra during his curriculum.